This week, the National Science Foundation (NSF) announced it selected the Gulf – Caribbean Oceanographic Consortium, cooperatively led by The University of Southern Mississippi (USM) and the Louisiana Universities Marine Consortium (LUMCON), to operate the third new oceanographic research ship to carry out regional scale research in the Gulf of Mexico, Caribbean Sea and Atlantic Ocean. We are thrilled by this announcement and this opportunity to support, enhance and expand scientific research and discovery in the Gulf and Caribbean.
Our lab had a unique insight in the process that lead to this award. I worked with a team at USM and LUMCON to develop the proposal and a vision for supporting ocean science through the use of this ship. I also had the chance to see my lab team pull together. The lab endured the development of this proposal over several months. They heard the conference calls, the "ding" of hundreds of emails, and bore witness to a horrendous stress diet (candy? did someone say candy?). Worst of all, proposal submission converged with our prep for the Microbial Stowaways cruise, leading to this very accurate Venn diagram: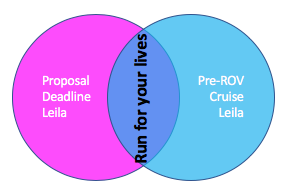 Through it all, we stuck together, supported each other, and made our work matter, for our research and in support of the academic research fleet. I was honored to work on this proposal, and excited about the work ahead with UNOLS. I am overflowing with gratitude for how our lab members stuck together, worked hard, and supported this important award.
Rachel, Rachel, Anirban, Justyna and Leif, I am glad we made it through July/August. I am glad we are a team.
Leila